Process mining is an innovative technology that helps companies understand, analyse and optimise their business processes based on their ERP data. The technology uses the data that companies record in their ERP systems to visualise the actual processes that take place in practice. Using this data, companies can identify deviations from planned processes and uncover bottlenecks or other problems.
The goal of process mining is to make business processes more efficient and effective by providing insights into actual process execution. To do this, the technology uses algorithms that automatically evaluate the data and visualise the processes. Using these visualisations, companies can get an accurate overview of how processes are executed and how they run in real time.
Process discovery is key
The most important tool in process mining is the so-called "process discovery". In this process, the actual implementation of the processes is made visible on the basis of the existing data. Data from various sources such as ERP systems, CRM systems, logistics systems or even from the web are analysed.
Process mining is particularly useful for companies in sectors such as logistics, manufacturing, healthcare or financial services, as these industries have a high number of business processes that can be very complex. The technology helps to keep track of and understand how these processes really work.
Classic value stream analysis
Of course, we know the advantage of classic process analysis from the value stream analysis, which is an integral part of every Lean project. With paper and pencil, one or two processes are analysed in depth and changed via value stream design on the basis of a Lean Master Plan.
However in the time of digital real time data this approach feels a bit out-dated. This is where process mining technology comes in.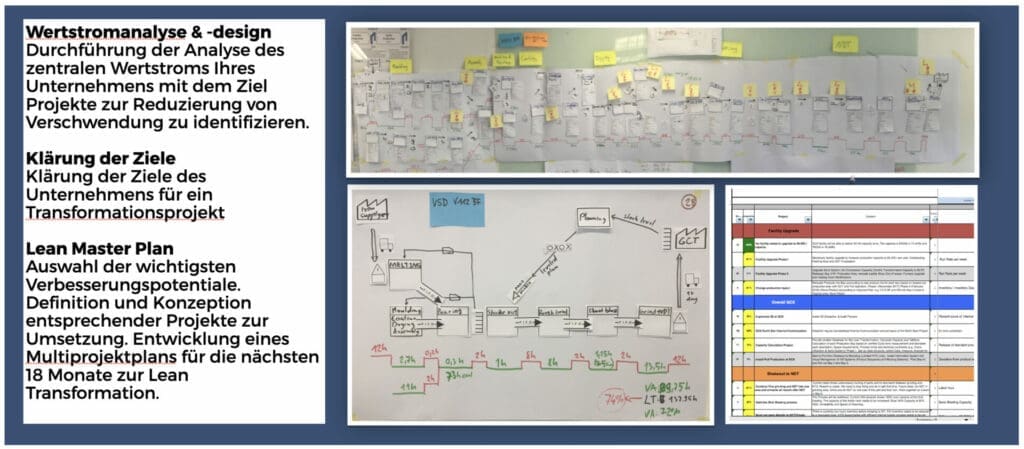 Real-time, continuous, predictive process analysis
The great advantage of modern, digital, data-driven process analysis is that analysis is now continuously performed simultaneously across all processes during ongoing operations.
Process mining makes it possible to detect deviations in the value stream in real time and enables forward-looking problem solving. This, of course, increases the company's control capability to a considerable degree. The earlier problems are detected, the sooner countermeasures can be taken and costs caused by waste can be reduced.
Process mining is therefore to be understood as a functional system in operation rather than a pure analysis tool.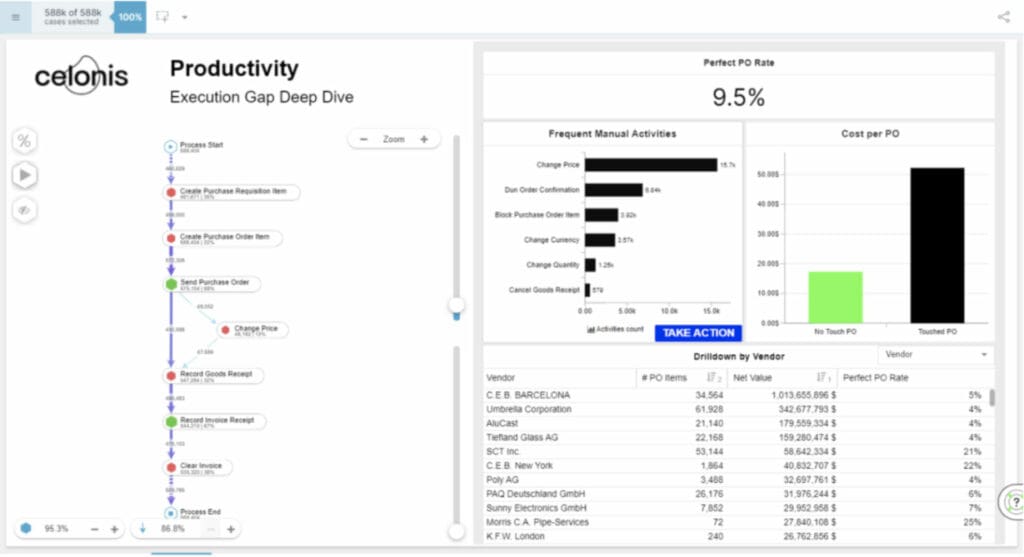 Process mining is based on 3 object data types
Process mining is based on the analysis of 3 object data types used for the analysis:
Type of document
Activity in the document
Time stamp of the activity
Based on these three object data, all activities, e.g. in the process of order processing, can be brought into a sequence and series and visualised.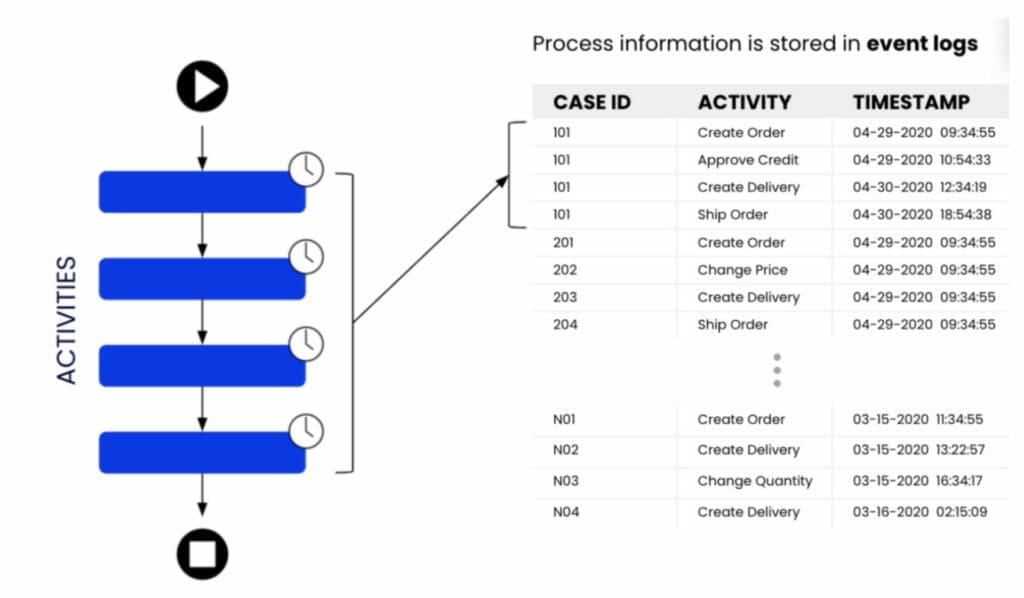 Connectors and Dashboards
Technically, process mining works in such a way that the data from the company's ERP system is collected via standardised connectors and processed and visualised in a cloud-based platform.
The results of the analysis are presented in clear dashboards and now enable the company to go into depth with pinpoint accuracy if necessary and optimise the potential for improvement.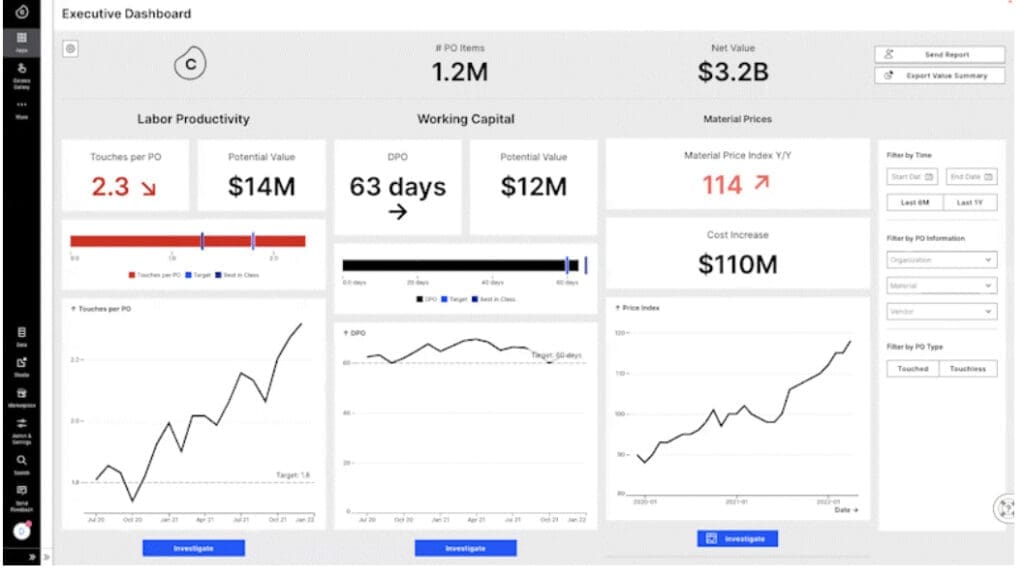 Process analysis
Once your data is visualised your can start deep process analysis by asking questions about the causes of process inefficiencies:
Where are the bottlenecks?
Why are cases running late?
Which resources are overloaded?
Which activities are often skipped?
Which resources create deviations?
You can then start to create process variants and compare them based on existing data. You can benchmark the new process against the old process and validate your hypothesis.
How does a certain variant affect a process KPI like operational cost?
How does automation, or lack thereof, impact the process cycle time?
How does a specific business action (e.g. customer credit block) impact a business KPI (e.g. on-time delivery rate)
What percentage of cases are conforming to the established process?
If you have assumptions about the inefficiencies, you can verify them. There are views and components that allow you to filter, slice and dice, and drill down into the data.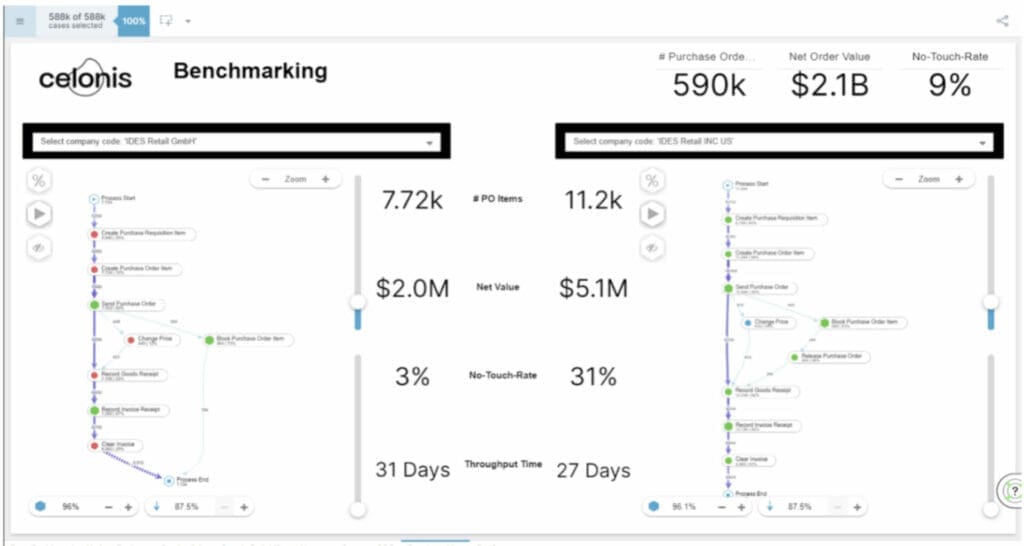 Automated solution resolution based on AI
At the same time, process mining makes it possible to automatically solve real problems in the value creation process through a combination with AI-based software solutions!
This means that not only are deviations in the process detected, but they are also directly corrected by automated software during operation!
One example is missing data in documents in the order processing process: process mining is used to detect that data is missing from a document and leads to long waiting times or processing times.
Now, using AI-based software such as CAPTOS AI, a workflow can be created that automatically fills up missing data in these documents.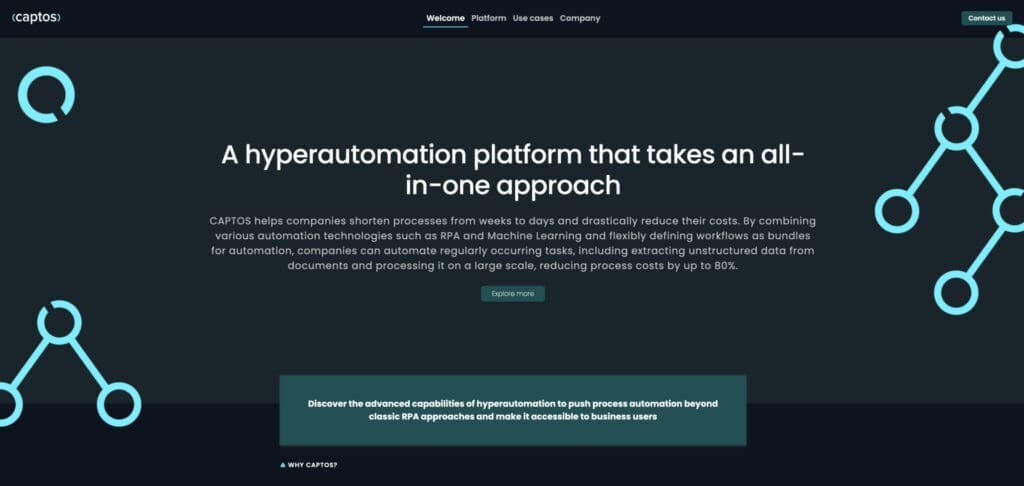 Captos.AI is a hyperautomation platform that can achieve long automation distances and automation rates of up to 80% for numerous use cases/processes.
The native Could solution combines different automation solutions in an all-in-one solution: AI (Artificial Intelligence), NLP (Natural language processing), OCR (Optical character recognition) and RPA (Robot process Automation).
What makes the Captos solution special are the proprietary algorithms developed in-house, which make Captos independent of vendors such as OpenAI or IBM/Watson. "Captos is a "low" code application. Our users don't need coding skills!" says company owner and founder Racel Maalej.
Captos GmbH is a subsidiary of PKF Wirtschaftsprüfungsgesellschaft and have been on the market since 2021 with their user-friendly hyperautomation solution.
Connectors are used to connect the company's data to the cloud platform. Customers now have the option to use pre-built use cases or create custom applications.
The first step is to extract, classify and validate the data using AI, machine learning and RPA technology.
The second step is to use the workflow engine to create complex workflows for data processing, through which data can be processed automatically.
In the third step, the data is then either fed back into the company via connectors or further processed via hybrid automation further RPA applications.
The optimization potentials found via process mining can thus be permanently solved as an automated solution via the hyperautomation solution from Captos.ai.
The market leader is a German Company
One of the leading companies in the field of process mining is Celonis. Celonis was founded in 2011 by three students from the Technical University of Munich. The idea behind the company was to help companies optimise their business processes by better understanding their data. Celonis has experienced strong growth since its inception and was valued at $11 billion in 2023. Source: https://www.deutsche-startups.de/2021/06/02/celonis-decacorn/
Celonis' flagship product is its process mining platform. This platform uses machine learning algorithms to collect and analyse data from various sources. With its machine learning algorithms and its ability to visualise real-time data, the Celonis platform is a valuable tool for companies looking to improve their processes.
Siemens and Celonis form strategic partnership
One company that has successfully used process mining is Siemens, for example. The company agreed to a strategic partnership with Celonis in 2020 based on its initial successes.
"The strategic partnership marks a new milestone in our already long history together. As a so-called "early adopter", Siemens GBS had already relied on Celonis' process mining technology at an early stage. By connecting 600 companies worldwide and more than 50 ERP systems with Celonis, GBS was able to achieve efficient, fact-based and performance-oriented improvements for its customers. 28 globally standardized performance indicators defined by Siemens GBS provide the highest level of transparency across the entire service portfolio." Source: https://press.siemens.com/global/de/pressemitteilung/siemens-und-celonis-vereinbaren-globale-strategische-partnerschaft
Process mining makes management & leadership a lot easier
Process mining also has a positive effect on leadership management and leadership.
On the one hand, managers can base their decisions more strongly on data. Decision-making thus becomes more objective.
On the other hand, managers gain more time because the previously time-consuming process analysis is no longer necessary and is replaced by automated analysis. This saves a lot of time.
The process mining system provides the data and the managers get the opportunity to concentrate even more on classic leadership topics: Making decisions, defining goals, developing employees, creating solutions to problems.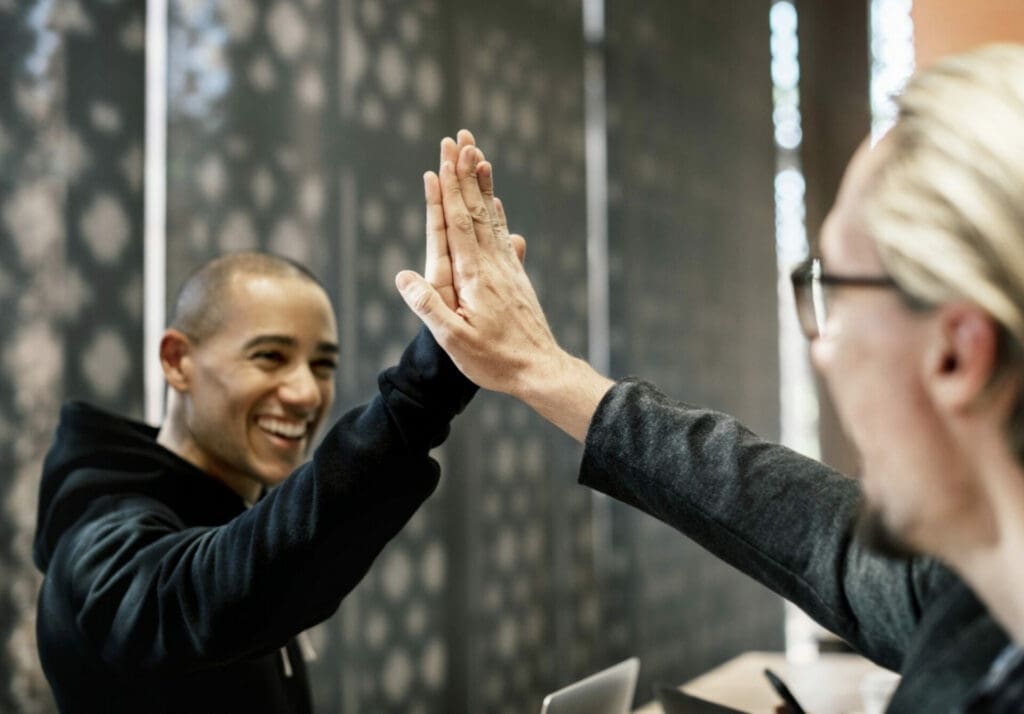 Software as a Service
We use the Celonis platform as the optimal solution for process mining. Together with our network partner, Valoritix GmbH & Co. KG, we enable the implementation of Process Mining based on Celonis® technology as Software as a Service in your company.
Valoritix GmbH & Co. KG offers its process mining solution as a hosted service, which has the advantage for you that you do not need to build up your own know-how. The data analysis is completely taken over for you and improvement potentials are analyzed for you in your company.
You can access the Valoritix website via this link: https://valoritix.com
In addition, we support you in the concrete implementation of improvement projects on site, if required.
If you have any further questions, please do not hesitate to contact us!

Contact us now!
We have more than 20 years of experience and deliver high quality consulting for your Agile, Lean or Digital Transformation.